http://www.paintedfigs.com
I've never really considered commission painters before. Those of you who have seen my work know that I'm a fairly competent painter who can churn out minis at a good pace. Lately though, having graduated university and started working full time, I've found that I simply don't have the time to paint up all the armies I'd like to game with.
Enter PaintedFigs.com (which shall be referred to as PF in this review). Located in Sri Lanka, PF boasts the lowest commission painting prices on earth. At prices as low as $3 for basic infantry, $5 for large models and less than $20 for tanks, I couldn't resist trying them out.
They also have an extensive gallery of their work seen here:
http://paintedfigs.com/gallery.html
I tend not to deal with overseas services as they are often unreliable and communication is difficult. However, taking a chance, my cousin and I pooled our money together for a small blood angels army and emailed the owner, Navin Weeraratne, for a quote.
I was surprised at how quickly Navin got back to us with a quote. Navin responded with an excel spreadsheet which contained a detailed breakdown of the costs of painting, ordering the miniatures, shipping, customs and the different options I had available to me in each section.
To save on shipping PF has a shipping hub located in the US so they can combine large shipments over to Sri Lanka.
I chose to buy my miniatures directly through PF's supplier. Once the fees were paid, the order went through immediately and the miniatures were on their way to the hub, and from there, on to Sri Lanka.
At this point there is roughly a 3 week wait for the items to arrive at PF's painting studio. Navin personally provided me with regular updates as to the status of the shipments. I was surprised at the amount of personal attention I received.
Once the items arrived in the studio, Navin notified me that one of the predators I'd ordered was missing from the order. As the predator would take another 3 weeks to arrive in the studio, he naturally waived shipping both ways.
And then it was on to construction. In my original communications with Navin, I had provided a very detailed set of instructions / specifications for how the models were to be assembled and painted. To their credit, the people at PF were extremely fast at assembling over 2000 points of space marines (most of which was infantry.) within a few days.
After the assembly was completed, the painting began. PF says on their website that they have entire teams of painters at their disposal. It must be true because within a week, I received the first WIP update.
I'm including some of the pictures below: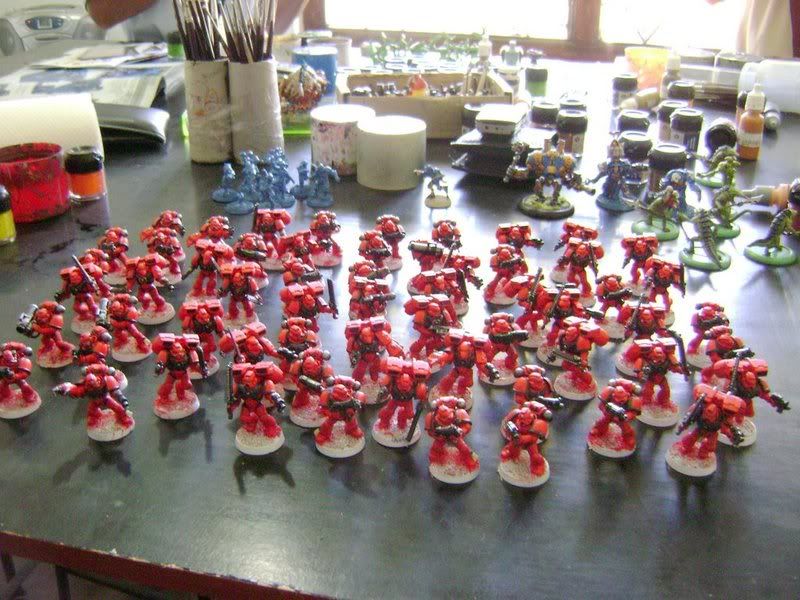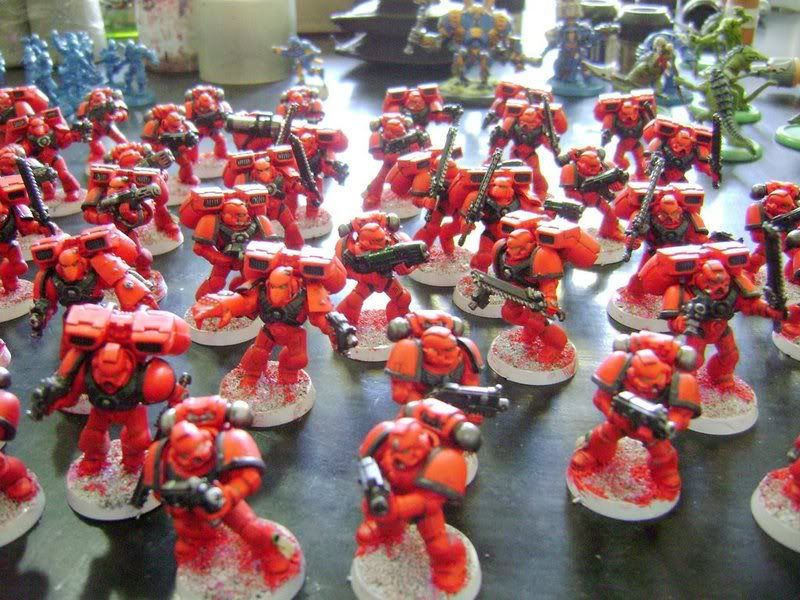 I was impressed with the quality of their work however I was a little disappointed that many of my instructions had been ignored.
I had specifically asked that all assault marines have yellow helms. I'd also asked for specific configurations on my 10 veteran assault marines, half of which were not assembled correctly. The straps on the jumppacks had also been painted black when I asked for boltgun metal (I even included a picture as an example.)
I was a little discouraged at this point but I emailed Navin and point out these fairly large mistakes and asked that they be corrected. Navin responded very courteously and apologetically and told me that all the corrections would be made.
Sure enough, within a week or so, Navin sent me updated photos of the corrections I had asked for along with several more WIP photos. I am including some of them below: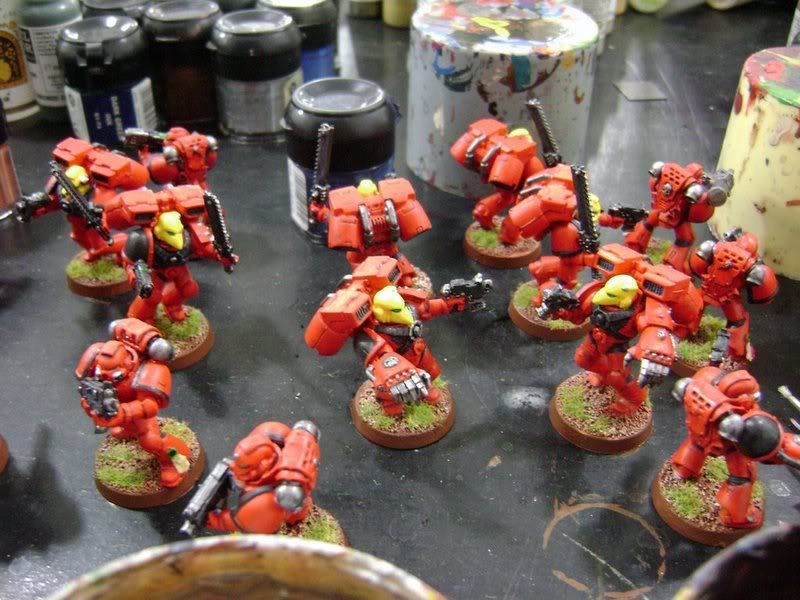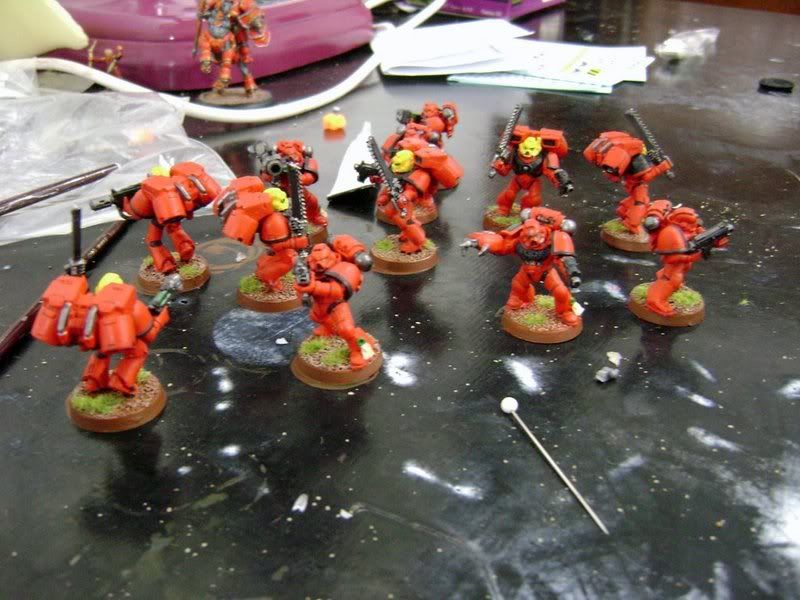 I was pleased with the results and asked him to make a few more minor changes (colors on the power sword, etc…)
Once these were finished, Navin sent me a 50+ photo review of the project that they'd completed. With the exception of 1 or 2 more small details, everything had been done to my exact specifications or corrected accordingly.
At this point I feel like I need to take an aside and stress how easy Navin is to deal with. Not once in this entire project did I feel uncomfortable asking for changes and alternations and he always found ways to ensure that my demands were met promptly. Whenever I'd send him an email, I would most assuredly get a reply within 24 hours and updates or photos whenever I asked for them.
The completed miniatures were shipped to me at a reasonable shipping rate with the predator to follow. When I opened the box 2 weeks later. I found that each miniature was individually wrapped in foam for protection. Each tank was wrapped in its individual parts and despite the fact that the box had gotten wildly crushed during shipping, all the figures were in tip top shape (there might have been a broken chainsword or two but those were easily glued back on)
I was also pleasantly surprised at how much better the minis looked in person. Everything was neatly painted and although there were a few minor errors (skulls on helmets not painted), they were all easily fixed within about 10 minutes of reviewing the figures. But hey, to be fair, the paintjobs were $3 each!!!
I've taken a few more pictures with my camera (Note: the death company and chaplain were painted by me):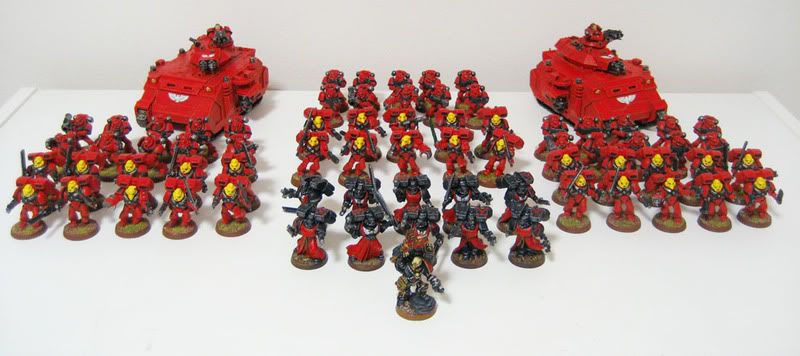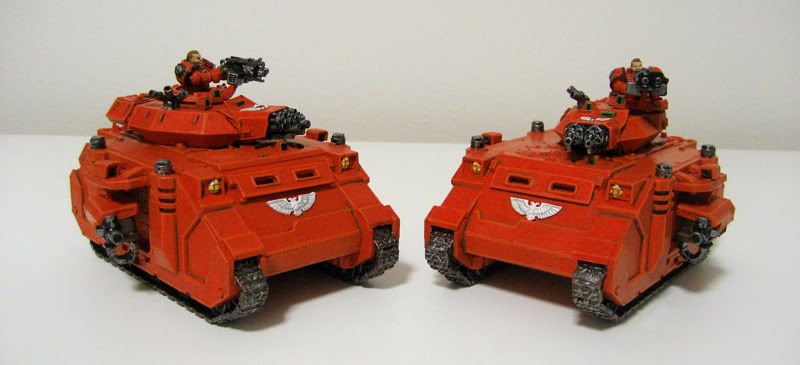 MORE PICS HERE:
http://s81.photobucket.com/albums/j232/ ... n/?start=0
So there you have it. My first (of many to come) commission experience with PaintedFigs.com. Although there were a few bumps along the way, I'd definitely have to say that I'm a satisfied customer.
SUMMARY REVIEW:
+ best prices on earth!
+ amiable owner
+ good communication
+ traditional painting (no glazing/dipping)
+ fast
- trouble following directions*
- long wait time for intercontinental shipping
- different time zones make for various wait times between communication
*quick to correct mistakes