Ready to do this? I hope so because here we go again. For anyone new a brief description on how this works is listed below. For people who have been through this before the revised texts are in bold
1. People from Bartertown send pictures of 1-4 models they have to me.(The details on the restrictions for models is below)
2. I will chose and make a list of about 20 and post them here
3. Painters will then pick models to paint and pm me with their address
4. I will distribute address and the owner of the model will ship it to the painter
5. Painters will then have 2 weeks to paint them
6. Painters will take pictures of their painted models and send them to me.
7. Painters will then ship there model back to the owner.
8. I will list a poll(with the help of the friendly mods
) here and people will vote on which they think is best.
9. Any model owner who has had his model painted and the pics uploaded in the poll will send five dollars to me though PayPal
10. The top three painters will win a cash prize.
Below are some explained details and rules.
1. The entry charge to the contest will be five dollars a model. Note you only have to pay this if yours gets picked and painted and the pics are uploaded. Having your picture up for selection is free. The money will be paid to me though PayPay and will be the prize money at the end.
2. Unless the owner says otherwise painters can do anything you want to the plastic models(chainsaws, Zombie ect.)
3. Shipping costs for the last one was about 1.29$ so if you want to enter a model you can expect to pay about that much.

3. Any painter may request up to three models(unless not all of them are requested then you can take as many as you dare)
4. The owner of the model will pay for shipping his way and the painter will pay for shipping his way.
5. Any person out side the U.S. needs to say so upfront. If they are entering a model then I will list their country besides their model. If they want to paint a model I'll just ask the models owner if they would be willing. If the person out side the U.S. wants to offer to pay shipping both
ways then that would be great.
6. When the painters take a picture of their model they need to pm me with a name for it.
7 All models get three shots upload, Front, Back, Specialty(something neat or cool about the model).
8. If you(a painter) get busy and fail to paint your model you will be required to pay the owner what he paid to ship it to you.(and you still have to ship it back).
9. Dioramas with other infantry models are allowed. No cavalry, monsters or anything that's to much bigger then standard infantry though. And you can only use models in the contest. Note that unless the owner has said that you can do whatever you want with the model you should make it so the model can come off of the diorama.

10. All models must be around warhammer size, and all models must be generally around infantry size. Banner bearers and hero's are allowed but no tanks, cavalry or huge monsters. If the model costs more then 30 dollars it probably wont work.

11. You can offer models and go in as a painter. But you may not paint and enter your own models.
Other random notes and bits of information.
1. The owner of the model may offer to send money with the model for the painters shipping. Whether or not he offers this will be listed by the models picture.
2. Some of the people who are entering their models to be painted may want them to match their army or be painted along a certain. If you(the owner of the model) want a specific style then send me the description and I'll post it with the models picture. If just want to list a picture of how you would like it painted/based then you can send it to me and I'll upload it. Then I'll post a link next to the models description. If painters are interested in that model they can just click on the link. Please don't be too restrictive though because the painter may not use games workshop's paints and we have to leave some room for creativity(otherwise it's no fun).
4. Here's how the payment will work, if your model is picked then you will mail the package to the painter. If your model is picked and painted you will send five dollars to me though PayPal. When a winner is picked then I'll then distribute the prizes. Note that you will not have to pay the five dollars until the models are listed. Then I'll start collecting the money and by the time there's a winner I should have it all together and can send it right out to the winners. How much the prizes are will depend on how many people have models painted.
5. And the owner will also have the choice to post request a gloss coat, matte coate, none.
6. If a painter has less than ten feedback I will tell the owner so and it will be his choice to do so or not.
Okay that's that. So guys can start pouring in their pics. For anyone who hasn't seen the results of the last one they are right here,
And for anyone to lazy here's are some pics from the last two.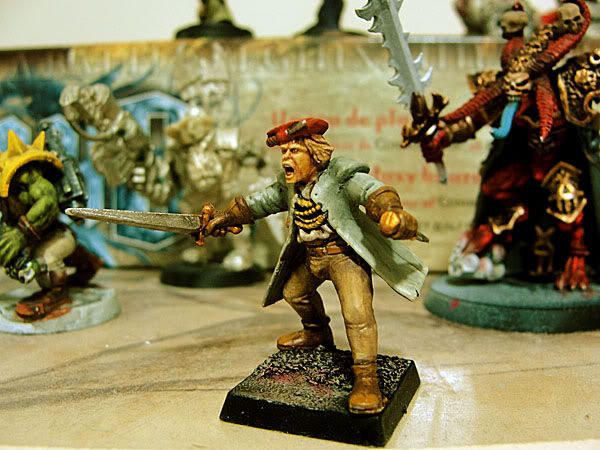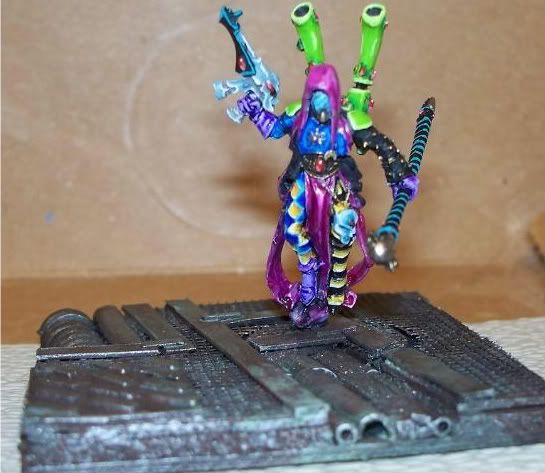 Well let's get to it and as a bigger incentive to the painters I will here announce that the person who won the contest last time won both first and second place. And then notified me that he wanted to donate the entire sum to be tacked onto the prize for this one. So let's see those entries.